Muktinath Tour is one of the popular holy tours of Nepal that carries various religious and cultural significance. Being at an altitude of about 3,710m from sea level, many local and international tourists often questioned the Muktinath tour Difficulties.
Experimentally, Muktinath tour difficulties are considered moderate. The tour is about visiting the sacred Pagoda-style temple surrounded by other holy places like Kundas and water springs. Muktinath temple is considered a holy place by both Hindus and Buddhists. People visit this temple to get 'Mukti' from all their sins. It is also believed that if you offer the god to leave any of your favorite habits or thing and do as well you will get 'Moksha' after your death. Thus, many people leave their favorite habit or food or thing after visiting Muktinath temple.
The Muktinath tour difficulties are always there for debate due to the lack of proper transportation facilities. However, the difficulties in the Muktinath tour do not depend upon sole factor but various other elements like the season you choose for the tour, mode of transportation, health condition of the traveler, and much more. We all can make the journey at ease by following different easier aspects of the tour according to our convenience. As we can see the Muktinath tour difficulties depends upon the following factors:
Best Season to Visit Muktinath:
For the Muktinath tour, the season like Spring, Autumn, and Summer can be the best time as the climate during those times is favorable for all modes of transportation. During Summer and Autumn season, the temple may be a little crowded as many local tourists visit for different religious purposes like taking bath in 108 holy spring water, etc. If you don't want to face the difficulties in the Muktinath tour like being overcrowded and prefer peace visits, you can avoid these two seasons while visiting the temple. If you want peace and a less crowded journey you can go there in the Summer season. For a clear view of the Muktinath surrounding, we will like to suggest you visit it during October.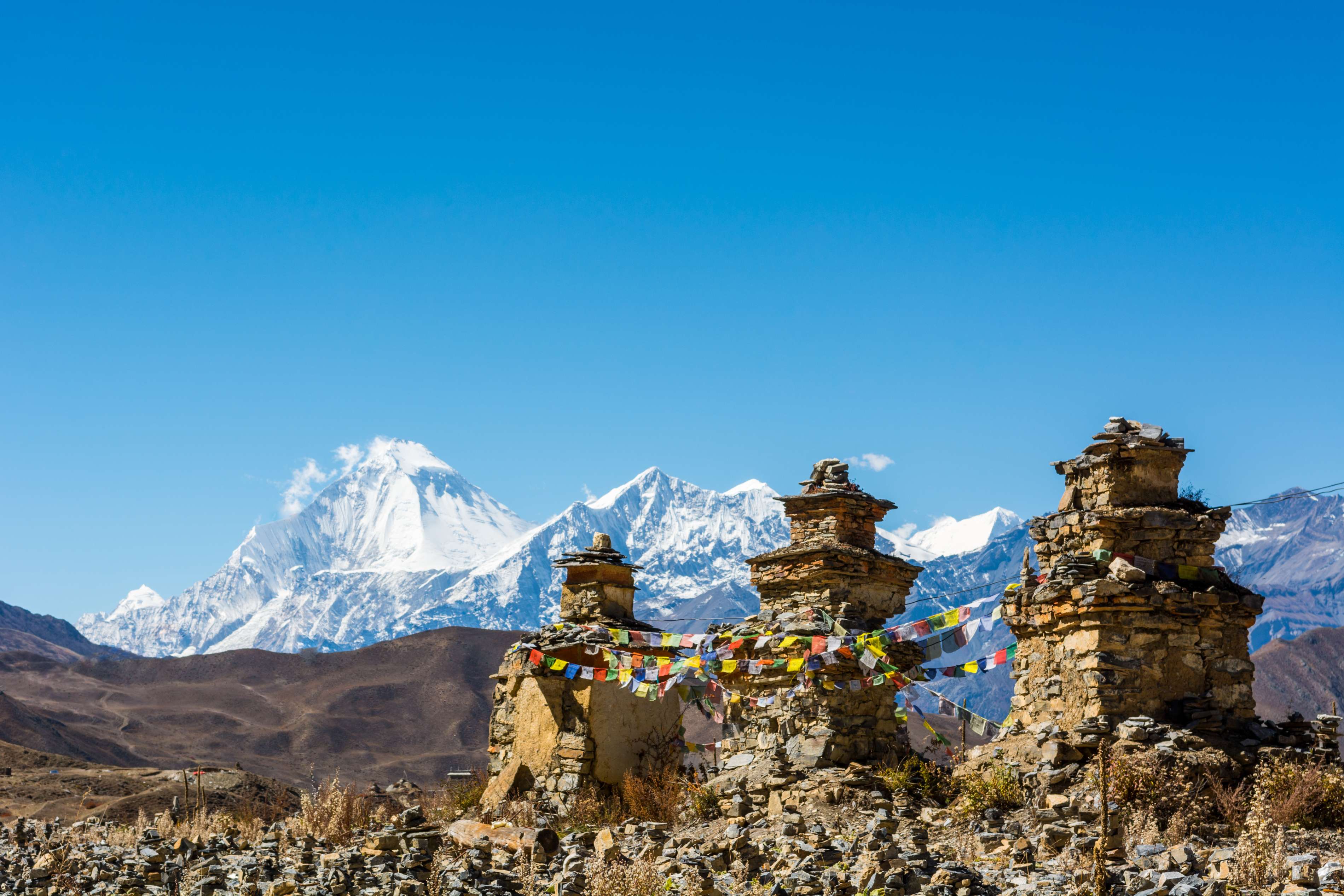 For the Winter season like December, the tour difficulty of the Muktinath tour may slightly increase due to the freezing temperature. For the unproblematic journey, you can go to Jomsom by flight and can eventually drive to Muktinath after resting in Jomsom. But some uninvited problems like snowfall, flight disturbance can occur at any time as nature can serve whatever it likes. Thus, you need to be prepared for the coming Muktinath tour difficulties by carrying all essential clothes, products, and medicine if you have any health problems.
Modes of Transportation to Muktinath Tour:
The Muktinath temple is located at the base of Thorang-La pass in the Mustang district. The travel access there is a little difficult due to the harsh weather. You can get there by flight if the weather condition is favorable. The difficulties in the Muktinath tour may occur if you fail to choose the mode of transportation according to the weather. You will reach Muktinath in a 2-hour drive from Jomsom after half an hour flight from Pokhara. The flight to Jomsom is conducted only early in the morning to reduce the Muktinath Tour difficulties.
Another mode of transportation is by road," Muktinath Tour By Bus" it may take more time to reach there as you have to drive for 9 hours from Pokhara to Jomsom. The road is small so only small vehicles like jeep are used for traveling in those areas. Muktinath tour difficulties are avoided by resting at Jomsom for a night so a fresh journey can start while visiting the Muktinath temple. Then you will reach the temple in the early morning after a 2-hour drive from Jomsom. Nowadays, many agencies provide a charter helicopter for the trip. If you are in hurry and have limited time in Nepal then you can visit the temple by chartered helicopter.
Trekking to Muktinath: Muktinath Tour difficulties
If you are an adventure lover then Muktinath trekking is for you. This will increase the tour difficulty of the Muktinath but will provide an extraordinary experience. The trek will be in Annapurna Conservation Area in which you will pass through Ghandruk, Ghorepani, Tatopani, Ghasa, Kalopani, Marpha, and finally Jomsom. And after a night's stay in Jomsom, you will walk to Muktinath temple which is at an altitude of 3,710 m from sea level. If you want to reach Muktinath temple by trekking then the Muktinath tour difficulties will be slightly more as you have to walk 4-6 hours daily. However, we can guarantee that you will enjoy the tour more following this method of traveling.
Muktinath Tour Difficulties :
The tour difficulty of the Muktinath is moderate. There is no chance or only a little chance of being a victim of altitude sickness. However, the condition may depend upon the health status of the traveler. If you are trekking then you must carry all the necessary gear and equipment for a better and safe trekking experience. In the case of a normal visit, there are not many Muktinath tour difficulties that affect your journey. To enjoy the visit, you should know what you want from the trip and be prepared accordingly.